On Tuesday, 27th October, 11 students and 2 staff set off on their adventure to China. We were accompanied by 3 students from Christ's Hospital School in Lincoln, their Staff member; Mrs Chen is originally from China and speaks Mandarin a skill that was to prove invaluable.
Our long journey began with a bus to Birmingham, followed by a flight to Amsterdam and then another flight to Beijing where a bus took us to our final destination of Tangshan. We arrived very tired and the students went off to their families who would be looking after them for the duration of their stay.
School starts early in China, 07.30 which meant that we did as well. The staff of the host school were very welcoming and had a full programme of activities for our students to enjoy, although the Chinese dancing proved to be a challenge. The day finished with a concert which included Peking Opera which was a new experience for everyone. School usually finishes at 17.30 when our students returned to their host families.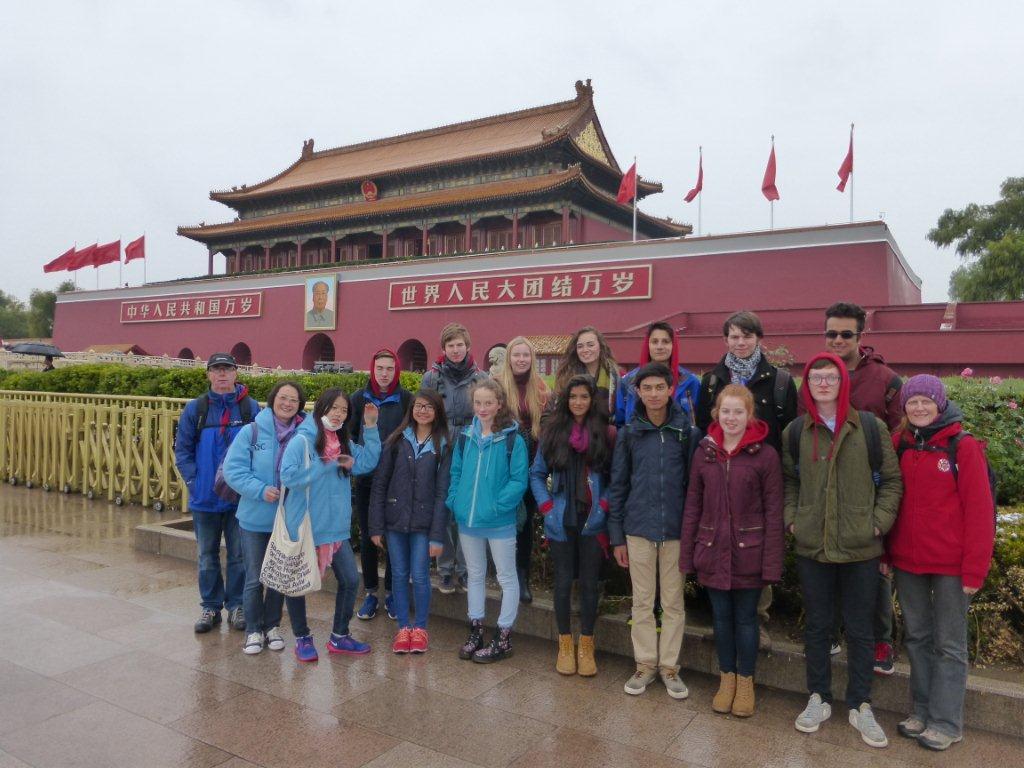 No visit to China would be complete without a visit to The Great Wall and our trip was in glorious sunshine. The Wall climbed up a rather steep hill and as the condition of the Wall became more deteriorated our climb became more arduous but we pushed on and were only beaten when it was too steep and hazardous. Our hosts were most impressed by our bravery. We had a lovely meal in a local house which proudly displays large photographs of previous visits from our school, I expect our pictures will be on display soon. The hospitality shown was incredible and was to be an example of what was to come.
As the days passed our students settled into life with their new families, they started referring to them as "My Mum" and "My Dad", a sure sign that things were going well. Monday came around as it always does and we were back to school, lots of different classes to discover such as Chinese calligraphy and paper cutting, these are classical Chinese skills that are taught as subjects in their own right.
Our final day in Tangshan ended with a concert at which our students would perform, for some this was a daunting prospect. The standard of the performances was extremely high and our students did themselves proud. The group and individual performances were really good and enjoyed by the very large audience.
The final days were spent in Beijing. After a long bus journey through some of the heaviest traffic anyone had ever encountered, we booked into our hotel. The weather had turned cold and wet for our visit to the Zoo but this seemed to be forgotten once we had seen the pandas. The following morning, our last full day, saw snow and very cold conditions. Tiananmen Square and the Museum of China were impressive and The Forbidden City was breathtaking, despite the weather. A trip to The Silk Market seemed to be a very popular addition to our itinerary.
The following morning we began our return, it would be a long journey but there is something comforting about returning home. Our students have all had a great and unique experience, gaining an insight into another culture and completely different way of life, I am sure this will stay with them for a very long time. The hospitality shown by our hosts was truly amazing; we were made to feel very special during our visit. It was clear that our students were looking forward to hosting Chinese students when they visit our school next year; this is a sure sign that the visit was a positive experience.