13th February: Great start to our adventure, but one big disappointment: the weather here is warmer than at home! We have packed for a freeze!
13th February: A great day ahead of us as we go on city tour of Moscow & get to explore Red Square. Food last night was excellent – esp. Borsch.
14th February: Enjoying the sights on an early morning walk.
14th February: Weather cold enough now to merit some hats!
14th February: We had a great visit to the Cathedral of Christ the Saviour.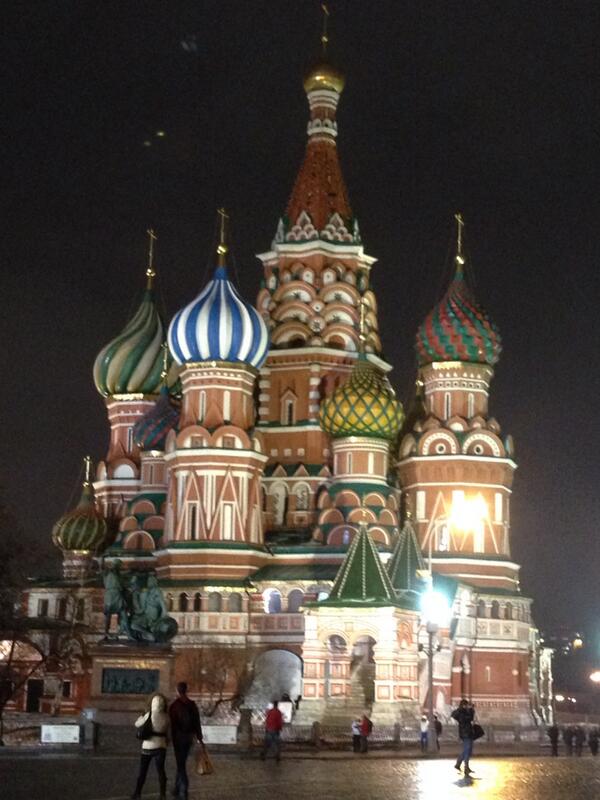 14th February: As iconic sights go, you don't get much better than this one. A spectacular late night visit.
15th February: Today we visit the Kremlin, full of history, go to the Ballet (Don Quixote) & then catch the overnight train to St. Petersburg. Wow!
15th February: we visited the Kremlin; full of amazing buildings and a superb museum too
15th February: This is the church where the Tsars got crowned. Wonderful icons inside
15th February: There have been far too many "selfies" taken; 1 student has over 100 so far! But "groupies" are fine
15th February: How to do justice to the Moscow metro! This gives just a hint, but every station is different!
15th February: Sochi is a long way away, but the Olympics are being celebrated in style here. Brings back memories!
15th February: We've been to the ballet too. "Don Quixote" isn't strong on plot, but the dancing was superb!
16th February: After the night train, we arrive in St. Petersburg & hear worship at St. Nicolas's: tremendous!
16th February: More "selfies" aboard the battleship "Aurora" on which the October Russian revolution was started
16th February: Night tour in St. Petersburg proves to be another hit. The Church of the Spilt Blood is memorable
16th February: We've had a great time so far and our students have been superb. Our guides have loved us; like this says
17th February: Today has been the day of Palaces and also of my learning the art of panorama! Hope you're impressed!
17th February: Previous was picture of Catherine Palace and here are its gates. Truly amazing and even better still inside
17th February: Now I don't like to show off – well not too much – but this p. is a thing of beauty! So is the room !!!
17th February: The rooms went on and on and this kind of conveys the gold gilt thing they've got going here. We loved it
17th February: We also went to the Pavlov Palace, which is even more elegant and chic. Hope you like yet anther panorama
17th February: Tonight went to a Russian Folk Show in the Nicholas Palace. An excuse for another groupie
17th February: Tomorrow it's an Art day (the Hermitage, no less) and coming home! What a trip!
18th February: A few of the trip "things" are: fur ( many sorts being sold!), icons, fabergé eggs & shoe covers as here.
18th February: ….and statues, like this one of St. George slaying the dragon in Moscow!
18th February: ….and beautiful gold capped churches shimmering above the grey murky gloaming. This also taken in Moscow
18th February: All of which begins to take us deep into the Russian soul: troubled, big hearted, full of extremes, passionate. Our superb guides helped!

18th February: We're ready to go on our last day. You can get a good p. in a hotel lobby!
18th February: Hard to do justice to magnificence of the Hermitage. Here's a p. to try! It was the Tsar's Winter Palace
18th February: This is grand staircase; lots of gold gilt. Also where revolutionaries entered to start Feb. 1917 Rev
18th February: Lots about Nicholas II today. He has been canonised by the Russian Orthodox Church.
18th February: As thrones go, this seems as good as it gets. The Romanovs did it in style!
18th February: It's not just the throne you see, but the Throne Room too! Only a p. can capture its magnificence!
18th February: But we're here for the art! This late Rembrandt is one of his best! Just look at the hands!
18th February: There has to be an icon in here! There is a religious revival going on in Russia, and they are icon crazy
18th February: Here's the view from the Tsar's bedroom! Not bad, eh! The face on the angel is that of Tsar Alexander I
18th February: This is the interior of the Church of the Spilt Blood. Quite amazing in the old Russian style! Merits a p.
18th February: & here it is. Church was built on the site of the murder of Alexander II. They've even kept the cobbles.
18th February: Finally, as we prepare to come home, proof that St Petersburg is pretty cold. It is a jewel of a city