2 Oct: Quite a collection on this trip! More trouble nearer the back of the bus, I find. No        horseplay is allowed!
2nd Oct: Spectacular views as we enter the Hope Alley. Is that a UFO at the top?
2nd Oct: Team-building in action(1) this pm; discussing what it's like to spend a whole day scrambling in a cave!
2nd Oct: Team-building in action(2). Sharks are having a field day with this group -they keep dropping their planks!
2nd Oct: Just in case I've got you googling for Hope Alley! I confess I meant to type Hope Valley. But it does have a certain ring to it does it not?
2nd Oct: Team-building(3). Great team work on the Orienteering Course from my group. It's hot work in the sunshine!
2nd Oct: Team-building in action (4). This is a surprisingly difficult challenge. You need a spotter to help you.
2nd Oct: In what has become an all too predictable routine Mrs Marris takes one for the team in spectacular fashion
2nd Oct: Only this unleashes a flood of willing victims & practically everyone ends up wet. But not me, dear reader
2nd Oct: Abseiling in the dark over a viaduct towards a river is one of life's challenges! We all managed it, showing character & grit!
3rd Oct: High ropes is a blast to get us going this am & at the end when you're done you get to float down in style!
3rd Oct: The moment ofrelease on the zip-wire is a thing of beauty! Here's Billy letting go; as good as windsurfing!
3rd Oct: Y10/9OPT: You get a fantastic view as you jump off and seem to be on top of the world!
3rd Oct: The leap of faith is a test of courage & endurance; Oliver had to wait for over a min. for me to get this!
3rd Oct: The "high-all aboard challenge" is not for the faint-hearted. It takes teamwork and skill!
3rd Oct: so nearly perfect, but not quite! Still it makes for a lively & colourful picture!
3rd Oct: This is one way to make a descent, but few could carry it off quite like Aine does! What a performance!
3rd Oct: Preparing for the carnage that is the Battle of the rafts! My love of water draws me to catch the action!
3rd Oct: before the Battle comes the classic "air guitar" pose! I think they'll have fun whatever happens.
3rd Oct: this is possibly the worst constructed raft in the history of OP! It collapsed before the race started!
3rd Oct: The girls' raft by contrast is sea-worthy & Mr Whyley bravely steers them to victory. They all end up wet!
3rd Oct: Just had one of the most memorable experiences of my teaching life! Walked down MamTor in darkness with no lights but great teamW.
3rd Oct: Inspired leadership from Ian coaxed remarkable spirit & mutual support out of our group. A difficult walk in dark is exhilarating!
4th Oct: Queuing for b'fast early on Sunday morning. No lie in for us. Are we hungry? After yesterday you bet we are
4th Oct: Interesting social change! No one-sys in evidence this year. However the occasional eccentricity persists!
4th Oct: On top of the world, as we get going with the weasling!
4th Oct: Will someone please get me out of here? Fear not, dear reader, good team-work delivers for Jack.
4th Oct: Seriously challenging climbing but no worries for Amelia who is like a mountain gazelle
4th Oct: Here are my fantastic group after a morning of tremendous weasling! They've asked me to tweet
4th Oct: Here's how to build a really good raft! Well done to this team. Unfortunately the other half's one sank!
4th Oct: Here's another Y9 group about to go caving this pm. Thanks go to Mr Frost & all the CGS staff on this trip!
4th Oct: A very big thank you to all the staff & instructors . They have been marvellous &the re-modelled Centre is even better than ever!
4th Oct: Indoor pursuits can be great fun too you know, as we enjoy our last evening of quizzes, marshmallows et al.
5th Oct: Pretty difficult conditions on last day but we're up for the Great Group Challenge! Climb-Abseiling to start
5th Oct: The Leaning Tower of Hope challenge requires all the team to play a part as the crates rise towards the sky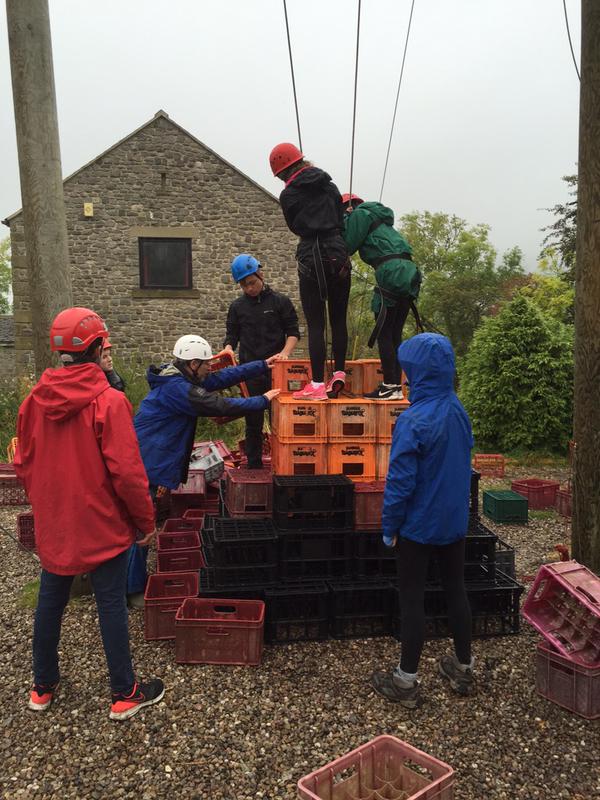 5th Oct: And here are the essential supporters, making everything possible! They also serve who sit and pull & hold!
5th Oct: And so we reach the end of our Challenge & of our trip. They've been a great group and everyone's a winner!
5th Oct: And finally, let's have a Photo of the Trip competition! I have 2 entries both taken by Mr Robinson! Entry1
5th Oct: …and Entry2. Both are of Y10 Theo & were taken on Kinder Scout on Sunday pm. Don't get many pics so good!
5th Oct: Here's another entry taken by Alex in Y10. It's impressive & could be a contender. Any more offerings?
5th Oct: Not all goes well. Mrs Leaning hurts her knee. Her group perform heroics to help her to base. Good can come from bad; v.well done!
5th Oct: Also Messrs Robinson, Marris & Frost all distinguish themselves in helping her. CGS staff go beyond the call of duty, once again!