16 Feb: So we reach the last count of 38. We each had our own number. Another great trip! Very Well Done to Mr C!
16 Feb: What is this you may ask! Actually it's the ceiling of the brand new very splendid St. Petersburg airport
16 Feb: Here's a really impressive WW2 memorial. Leningrad suffered so much during their heroic siege.
16 Feb: A rare sighting of Lenin on the way to the airport you might think. But no! He has over 80 statues in StP
16 Feb: This is the concert hall in which Shostakovich conducted his famous 7th "Leningrad" symphony during WW2.
16 Feb: Just time to share a pic. of the impressive Nicholas Palace; the unlikely setting for our Folklore Show.
16 Feb: So here we are about to check out on our last day but there's still time to congratulate our birthday boy
15 Feb: Tonight we much enjoyed a traditional Russian Folk Evening, but this trip no one from CGS got to perform
15 Feb: Our St. Petersburg guide, Igor, is a real gem & his great style is much enjoyed by us all.
15 Feb: We also visited the Pavlosk Palace which is extraordinarily wonderful: a real treat.
15 Feb: Funny who you meet at these great palaces. By popular demand I stopped to greet Mr Putin! And got a medal
15 Feb: Our students have generally been v. good but the snow did seem to get them going. Here a truce has begun
15 Feb: Lots of snow overnight so our journey to the Catherine Palace was magical. The palace too is beautiful.
14 Feb: And now to the ballet to see The Nutcracker, which was a delightful experience in an exquisite theatre.
14 Feb: So much wonderful art to see. Here's a painting by Rubens.
14 Feb:  it's hard work being a tourist, so we take a welcome chance for a brief rest in the Hall of the Generals.
14 Feb: Inside the Hermitage the opulence is something to behold.
14 Feb: Much of the Neva is frozen as we survey the Hermitage museum, formerly the Tsars' Winter Palace.
14 Feb: We heard superb choir singing and saw devout worship in this beautiful church of St Nicholas.
14 Feb: Enjoyed a wonderful city tour on our first day in St. Petersburg. Here's Nicholas I overlooking St Isaac's.
13 Feb: And here we all are safely arrived at St P. We're enjoying a fabulous breakfast before heading on a tour
13 Feb: We are now about to board the overnight sleeper to St. Petersburg. A touch of Scotland will help us.
13 Feb: The Moscow metro is a wonder to behold. We wanted to stop at every station.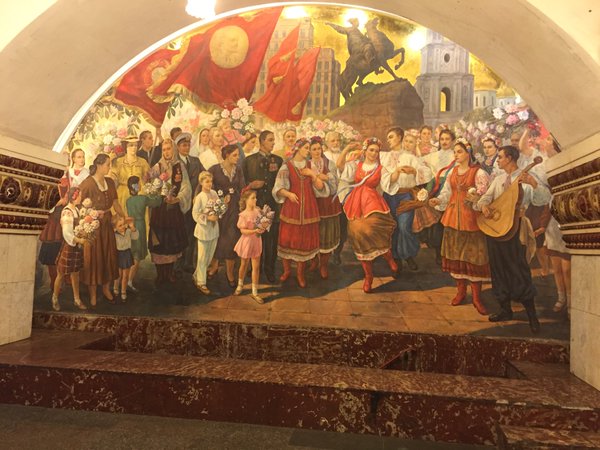 13 Feb: I wonder what Karl Marx makes of the new cosmopolitan metropolis.
13 Feb: A Moscow evening stroll is more colourful than you might expect…
13 Feb: No shortage of dolls either…
13 Feb: Many students have purchased splendid hats on our trip. I can't think what can have inspired this.
13 Feb: The wonders of the Kremlin did not disappoint today. Gold leaf in abundance!
12 Feb: You can tell how transfixed we all are by Comrade Croft's masterful account of soviet realism from this.
12 Feb: It turns out that soviet art looks best in the night sky and here's another compelling example.
12 Feb: Another view of the same monument. It seems to almost carry you out of this world.
12 Feb: Amazing nighttime visit to space park celebrating soviet achievements in this area. Lots of snowballs too
12 Feb: 27 million Russians died in WW2 "The great patriotic war". Here's a moving memorial at the museum on it.
12 Feb: Speaking of colleagues, we were facedwith this sign on our table at lunch. That's how we do it at CGS too
12 Feb: Beautiful hand painted trays in Red Square. But watch the price! We also saw 4 Christmas baubles at £750!
12 Feb: Trees with snow on the inside of the prestigious Red Square Mall? Best to keep your hats on, colleagues!
12 Feb: Think I've tweeted St Basil's iconic turrets before but this includes our Guide, Irina. Did I miss a bit?
12 Feb: It's snowing today in Moscow, so excuse the mistiness, but we still had a fantastic view of the Kremlin.
12 Feb: Here's the Cathedral of Christ the Saviour in all its magnificence
12 Feb: Here's we all at the start of a busy day, visiting Cathedrals, Red Square, museums and also Curling!
11 Feb: Here's a close-up of some of those buildings. We look forward to seeing them better in the daylight.
11 Feb: Pretty spectacular view from our rooms, which conveys Moscow old & new.
11 Feb:Delighted to report that we are arrived at our Hotel & that all has gone well today. Now about to eat our first Russian meal!